The North Wilts Canal is part of the Wilts&Berks Canal Trust, formed with the aim of preserving the line of the canal between Swindon and Cricklade and promoting its use.
A SHORT HISTORY OF THE CANAL
Construction of the eight mile North Wilts Canal began in 1814 and it opened on 2nd April 1819, forming a vital link between the Wilts & Berks Canal and the Thames & Severn Canal.
It left the Wilts & Berks Canal in the centre of Swindon (where Debenhams now stands) and dropped sixty feet via twelve locks to join the Thames & Severn Canal at Latton Basin. A tunnel took the canal through Cricklade, and several aqueducts were used to span waterways including the River Ray north of Swindon, River Key south of Cricklade, River Thames at the top end of North Meadow and the River Churn next to Latton Basin. Many culverts allowed the passage of floodwater, tributaries and streams under the canal and innumerable bridges allowed roads and farm tracks along its route to cross over the canal.
Initially the major trade was coal, as the new canal enabled coal from Staffordshire and the Forest of Dean to travel south, and coal from Somerset to travel north, establishing many coal merchants in Cricklade. The canal also used to pass in front of the warehouse at Wharf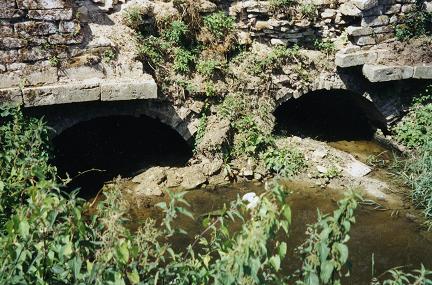 Farm, so in the early days it was also used extensively for carrying grain supplies from Lechlade, Cricklade, Cirencester and Bristol as well as the carriage of bricks, slates, salt, flour, malt, iron and timber. Chelworth Wharf was at The Fiddle in Cricklade, north of the junction with The Forty, and at one time the canal reached the Knoll at the lower end of the High Street and as far as the gates of Brook House.
---
Information and questions - Send email to contact@northwiltscanal.org.uk
This is not an official Wilts & Berks Canal Trust website, but is run in support of the work of the Cricklade Branch of the Trust. All opinions and comments on these pages are solely those of the authors and do not necessarily represent the views of any of the organisations mentioned in these pages.